Water's Edge at Sheepscot Harbour Village and Resort:
Here's a neat place for a wedding or a banquet! At Sheepscot Harbour Village & Resort you will find luxurious hotel, inn & cottage accommodations for your guests, fine dining, and a spacious waterfront wedding venue with seating for up to 150 guests. They offer custom Wedding & Accommodations Packages based on your event to make your Maine destination wedding a stress free, memorable event! BY PHONE – Toll Free: (800) 437-5503 – Local: (207) 882-4200. Email to: tracy@midcoastshvr.com

Bridal Makeup:
Pamper yourself with luxury as the professionals at A New Leaf Salon & Spa work to create a custom bridal hair design tailored to your personality and event design. Contact them here:

DJ Services to Rock Your Party:
Our friends at The Music Man DJ Service will rock your wedding or party! Contact Mitch to schedule your consultation at 207-423-4859 or click here to send a message.

An Awesome Photo Booth:
Thomas brings an awesome photo to events of all sizes. Using an open-air concept to capture groups of all sizes, PhoBoCo will be the life your your party! Fully integrated with social media – send GIFS and photos directly to your phone, or get professional prints with your custom logo.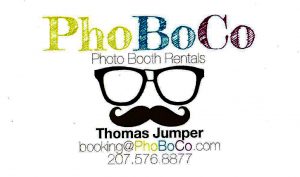 Non-Denominational Marriage Services:
Margaret Salt McLellan is an ordained minister who will perform marriage ceremonies for all denominations. Contact her at 207-687-8042 or 845-444-4666 or email: 7benedictions@gmail.com.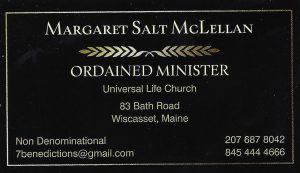 A Flip Book Photo Booth!
Not just fun and crazy photos, but a flipbook made from a short video while you dance, hold up signs, or act out a mini scene. Flip through your flipbook and relive your video with family and friends. Fantastic fun for a wedding or other event. See the website at photoplayme.com or call Ashley Dougherty at 207-805-3233 or email: ashley@photoplayme.com
Love Kupcakes:
Love Kupcakes strives to create the highest quality cupcake by using the best ingredients, sourced locally when possible. We are dedicated to developing unique and fun flavor combinations that keep to a high standard, while pushing the limits of what a cupcake can be. In keeping with our mission to make our cupcakes available to everyone, many of our flavors are available in gluten-free and vegan recipes. Please visit us at one of our locations, or call us to chat about catering your wedding or special event!
Find them at www.lovekupcakesinc.com
Shop Invitations:
PERSONALIZE your day with exclusive designs, paper choices, fonts, ink colors, ribbons and more!
Call 888-314-5639 or visit invitationsbyDavidsBridal.com
Spring Meadows Reception Venue:
Spring Meadows Golf and Country Club in Gray, Maine. Their full-service facility accommodates up to 200 guests and is the perfect site for ceremonies, receptions, and business events. Located in a beautiful, rustic setting, Spring Meadows offers panoramic views of their 18-hole championship golf course. Email: peggy@springmeadowsbanquet.com or call 207-657-4694.
"Let Them Eat Cake"
Here's a wonderful resource for custom wedding cakes. Contact Gayle Forte at "Let them eat cake" phone 207-967-4145 in Kennebunk, ME.
Edible Arrangements:
Visit Edible.com – one of our friends from David's Bridal – to find the store nearest you.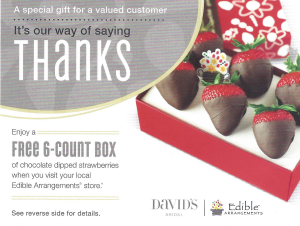 The Maine Wedding Barn:
The Maine Wedding Barn at Fairview Farm in Minot offers a charming country atmosphere for your wedding or party. Owned and operated by John St.Hilaire & Barbara Fogarty. Email: farviewfarm@megalink.net Find them on the web at www.mymaineweddingbarn.com.
Laser Tag for Weddings or Other Events:
Trigger Combat Sports comes to you! With our gaming guns and inflatable barriers, we can set up games anywhere, indoors or outdoors, daytime or night, summer or winter. Trigger Combat Sports is ideal for: birthday parties, bachelor(rette) parties, family reunions, school functions, youth groups, friendly get-togethers, fundraisers, corporate functions and other special events.