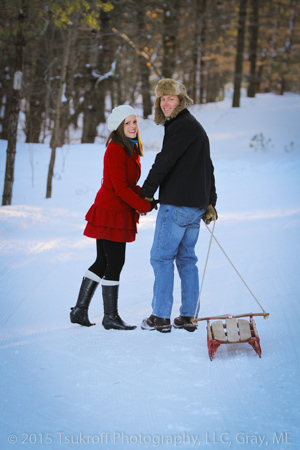 When I first began as a photographer in high school, I was fascinated by the mechanics of the craft. Creating images on paper was an amazing process.
Soon, I realized that my camera was capturing more than the world around me . . . it was capturing the emotions of the people I photographed. With my camera, I was able to show peoples' personalities and relationships to their loved ones.
That's why the Four Season of Our Love engagement sittings are such a wonderful fit for our studio!
Photographing a bride and groom on their wedding day allows me to celebrate one of the happiest days of their lives. But photographing a bride and groom four times before we ever get to that special day allows me to capture the love that brought them together. And when we share the images with their families and friends in a multi-media show during the reception, everyone shares in that love!
During these engagement sessions, I have the fun of visiting places that are special to our couples and hearing their stories of meeting and falling in love. My job is to help tell that story with my camera, and to capture their emotions through my lenses.
This past Fall I had the pleasure of working with several couples as we started the cycle for their October weddings. What a blast we had kicking leaves and showing off sparkly engagement rings!
And now we're working on a Winter Wonderland theme! Hiking in the woods, sledding on the hills, or just sharing the warmth of a special hug make for some amazing images.
Spring is delightful with the new leaves shining like emeralds, and summer often finds us walking the shores of Casco Bay to draw hearts in the sand with the couples' initials.
Wedding photography is more than just recording an event. It's about capturing the reasons and emotions that led to that event. And the Four Season of Our Love gives me a wonderful chance to work with couples to show their hearts to the world.
Here's a link to one our sessions, set to a special song appropriately titled "The Four Seasons of Our Love" – http://tsukroffphoto.com/four-seasons/
And here's a link to our wedding and portrait galleries – http://tsukroffphoto.com/galleries-2/
We look forward to working with you to capture your love with our cameras . . . all four seasons!