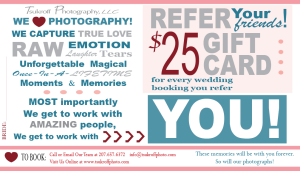 Dear Friends,
Another amazing year for Tsukroff Photography is quickly coming to a close. We have you to thank for its amazingness! Our days have been filled with your memories, your smiles, your laughter, and your love. You've kept us busy photographing your weddings, family portraits, business headshots, school pictures, summer camps, dance classes, and school sports around the region.
We get to share in your most special memories . . . The engagements. The "I Do's." The winning goals. The perfect pirouettes and pliés. The baby bumps. The awards, honors, and achievements. Because we get to work with you, we really do have the best job ever!
Thank you for letting us into your lives. We are excited to see what comes next. We look forward to photographing your special moments of 2016!
Engagements     Weddings     Portraits     Love     Life
Tsukroff Photography is here for all your photographic needs in 2016! Thank you for being AMAZING!
Of course, all current Tsukroff Photography customers receive an automatic 10% discount on your 2016 photography services. Simply mention promo code AMAZING16 when booking.
Sincerely,
Nathan Tsukroff
Call us at 207-657-6372
Find us at http://tsukroffphoto.com
Email:  Nathan@tsukroffphoto.com